Good Morning,
We will call this one Allah and the 40 Virgins.
I suppose ever since 9-11, Islam and Muslims in general have been on many minds in America and the rest of the world as well.  I think much of this could be from a huge "lack of trust" in the motives concerning all Muslims in general.  Yes, it is a generalization of a group and something I try to avoid.  You know, when we say something like "all men are creeps", "all women are bad drivers" and "all men want is sex".  Well maybe that last one isn't too far off the mark, but you get the idea.
Anyway, I think my feelings about this were perpetuated by the painfully obvious lack of condemnation by the "State of Islam" for the acts of terrorism we saw on 9-11, even though there were Muslims killed as collateral in the attacks.  I guess you could say the silence was deafening. The "Martyrs" go without saying, as it always was their intention to die for "Jihad" and reap the benefits of being with Allah in the Garden of Paradise.
So with an awareness of this particular religion brought to an unavoidable conscious level on a daily basis by the World Media and of course, with a lot of help from the fundamentalist Islamic Sunni movement called Al Qaeda and their proclaimed Jihad, I needed to understand a bit more of what could possibly motivate someone to turn their bowels into a bloody mist, blow their head the distance of a football field and in the process kill as many of the humans around him/her as possible.  There has to be some kind of "crazy wicked" reward for doing that!  I know that here in the United States, I cannot think of a single family that would love to see their son or daughter BLOW THEMSELVES UP and kill everyone around Them.  But that's just me, I was raised Christian.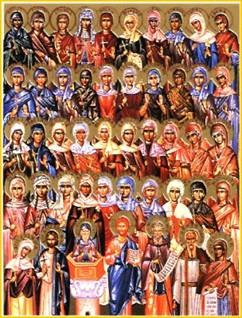 I started to look into this "40 Virgins" thing I kept hearing about (frankly one was enough for me, but that's another story ) and discovered very quickly that it isn't "40 Virgins" after all, but rather "72 Virgins". But wait, there is more… add to that 80,000 servants and a huge palace!  (80,000 servants… I guess you would need a big place) Now we are getting somewhere… maybe it would be worth it after all, especially if you have literally nothing in your present mortal life.  In all fairness, I have also heard that there have been intelligent/educated people that have done this as well.  Go figure.
Oh, by the way, the 40 Virgins thing is a confusion with another incident that occurred where 40 Holy Virgins and St. Ammoun the Deacon were from Adrianopolis in Macedonia.  Deacon Ammoun was their guide in Christian faith. They were captured by Baudos, the pagan governor, and were tortured because they would not offer sacrifices to idols.   So now that is cleared up and they had nothing to do with Islam.  Well maybe a little because since they were Christian, they also believed in the same God as Abraham, Jews, Christians and yes… Muslims.  They just didn't refer to God as Allah.
Looking a little deeper I also discovered that nowhere in the (Qua'ran) Koran does it mention the number of "virgins" in the Garden of Paradise.  That comes from another writing called a Hadith (Islamic Tradition) that quotes Mohammed in describing Paradise.  I would think it has validity as much as the New Testament Gospels have for quoting Jesus.  Also the Koran doesn't mention "virgins" either.  By one translation it refers to translucent pure beings with dark eyes (houris).  Well, that's pretty cool and it would be fun to meet them, even if I couldn't have human physical sex with them.  If you noticed, I mentioned one translation…yep just like the Bible, the Koran can be interpreted differently by who is doing the translation.  We know that has gone on for millennium with the Bible, so why not for the Koran?
(4-24-2011 Easter Sunday) I need to mention here that I have received comments since writing this post, stating that I do not understand Islam.  I have also been told that to understand the Koran, you should have someone who is well studied in the teaching, interpret it for you.  You see that is where I have a problem, how do I know what they are telling me it the right stuff?  They may tell me to only way to paradise is to fly a jet airliner into a building for all that matter.   Yes, I do not understand Islam.  I was not raised as a Muslim, but I am working to understand more.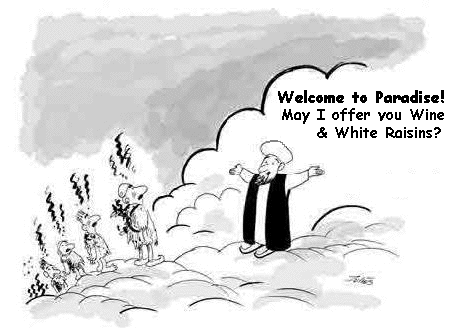 A Christoph Luxenberg in Germany has discovered that if you translate the Koran in Syriac and not Arabic, it shows that many obscurities of the Koran disappear.  So Christoph translated the words that were supposed to mean doe-eyed, and ever willing virgins – the houris, to none other than "white raisins" of "crystal clarity".  Luxenberg claims that the context makes it clear that it is food and drink that is being offered, and not unsullied maidens or (houris).  Imagine the surprised look of that suicide bomber when as a martyr he meets Allah and is presented with "very clear white raisins".  I never once thought that our God would sanction unbridled sex with virgins anyway, so I guess I'm not disappointed.  Is it possible that all of these years the translation has been wrong?  Humm… or not.
Obviously, I have much more research to do on Islam, but so far it has been interesting.
Love, Dad
BTW: If Al Qaeda is trying to convert the world to Islam, they have a strange way of going about it.
Christoph Luxenberg's book, Die Syro-Aramaische Lesart des Koran, available only in German, came out just over a year ago.
Citations: Virgins what Virgins, by Ibn Warraq Note: There are more, but I didn't keep track like I should have.
Please Note: If you have read this post, please also read my followup:  Allah and the 40 Virgins (Revisited).